LANDSCAPE SERVICES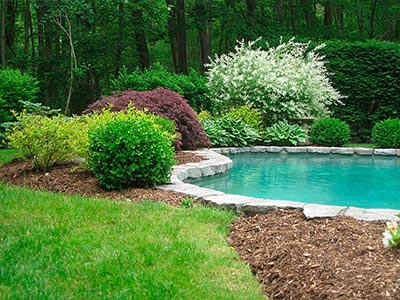 TM Lawn & Landscape provides business and residential hardscaping services to Bethel, Connecticut, and the surrounding areas. Our original, high-quality works stand out from the crowd and are highly prized. Aiming to live up to the high standards set by our esteemed reputation, we always go the extra mile to satisfy our clients. To guarantee that you always get value from dealing with us, we provide the optimal balance of quality, price, and reliability. You can rely on our knowledge and experience to create new landscapes or improve and expand upon them. We can help you improve the visual appeal of your outside area by assisting with material selection, softscape, and hardscape installation and design. Our all-inclusive method ensures that the exterior of your business or residential property will be practical, long-lasting, and easy to maintain. We've got all your hardscape requirements covered from start to finish, including installing various paver elements. These are the services we provide for our business and residential customers.


Landscaping
Creating a distinctive and aesthetically pleasing exterior for your home or company is your priority, and the TM Lawn & Landscape team understands this. Therefore, we have landscape designers on staff who can craft a beautiful layout for your outdoor environment. Once you've approved the landscaping plan, our team will implement it. Only the most skilled masons and installers make the cut, and you can be confident that we will complete your project on time thanks to our dedicated team of managers. Our company uses proven and high-quality supplies and products for the best outcomes. We can provide our customers with aesthetically pleasing and environmentally sound outdoor areas by using this approach in tandem with water and energy-saving measures. We can help design and install lawns, flower beds, softscapes, and hardscapes for your property. We have experienced paver installers and masons who have expertise in installing different types of hardscapes. Read More About Landscaping »


Landscape Design and Construction
We are a full-service landscaping company that handles all landscape design and construction aspects. You need the assistance of qualified experts like us if you want to get optimal results in your new landscape or upgrade project. Professional landscaping experience has taught us to approach each project methodically. We're dedicated to providing our clientele with innovative, cost-effective design solutions. No matter how big or small your outside area is, our expert landscape designers can create and implement the perfect design. We also construct garden steps, flowerbeds, appropriate exterior areas, water features, attractive rock structures, paved surfaces, brickwork, and retaining walls. We provide a wide range of landscape enhancement services and can handle projects of any scale. The team ensures that the new additions go well with the rest of the design and that you have a cohesive outdoor space that performs well and looks great. Read More About Landscape Design and Construction »


Lawn Installation and Renovation
We handle everything from creating a brand-new lawn to renovating an old, damaged one. We can create a plan to build you a whole new lawn or restore your current lawn to its former glory, depending on your specific requirements. Selecting a single landscaping company to handle your needs can save you time and stress. Our team will provide all the information you need to choose the best grass for your needs. We only use high-quality seed and sod, and the grass will grow lush and green within just a few weeks following installation. Our team comprises professional grass installers who work diligently to provide a timely and flawless turf installation. We are dedicated to exceeding your expectations regarding quality and value at every process stage. Our company offers residential and commercial property owners lawn installation and renovation services. Read More About Lawn Installation and Renovation »


Landscape and Property Maintenance
Many property owners hire professional landscape designers to create a unique and eye-catching outdoor environment. The quality of your landscape, including the towering trees and elaborate brickwork, is excellent, but you still need to maintain it for the long term. The only way to ensure that your landscape and lawn will continue to look lovely long after the installation or remodeling is complete is to give it the attention it needs to stay in pristine condition. We provide both recurring and one-off maintenance for your outdoor spaces. The landscape and property maintenance plans have a long-term perspective and can save you significant money. While we have standard landscape maintenance packages available, we are more than pleased to tailor our services to meet your specific requirements. If you take good care of your landscape and property, the features will look better and last longer, reducing the overall cost of ownership. Read More About Landscape and Property Maintenance »


Lawn Maintenance
A well-maintained lawn is a spectacular background for your home or business's other design details and planting. However, maintaining a property is a difficult task. Due to the complexity and time commitment, this job is best left to tried and true experts. We are the best in the business at providing lawn care for both commercial and residential properties. Because we are a local business, we can provide reliable and efficient lawn care services. We work hard to meet the specific requirements of each of our customers. We realize that every property is different, so we provide individualized lawn care packages that include services such as edging and trimming, core aeration, organic fertilizer, mulching, seasonal lawn cleanups, and more. If you keep your grass in good shape, you may reduce the money you spend on maintaining your lawn and other exterior areas. Read More About Lawn Maintenance »


Lawn Restoration
We provide affordable grass restoration as part of our extensive list of landscaping services. While we provide standard lawn care plans, we also recognize the need to tailor our services to meet each client's unique needs. When it comes to your lawn, we only utilize non-toxic, organic pesticides and fertilizers. If you want fresh sod laid, you can be sure that it comes from reputable growers and is free of pests and illnesses. Raking, thatching, and clearing and blowing off debris are part of our lawn restoration services. When restoring lawns, our staff works together to guarantee that they are constantly in pristine condition. It helps you enjoy your lawn and garden all year long rather than just a few months out of the year. We have the knowledge, skills, resources, and experience to handle all types of big and small lawn restoration work for our clients. Read More About Lawn Restoration »


Stone Walls & Walkways
With the help of stone walls, we can convert our outdoor spaces into works of art. We can transform even the roughest backyard into a lovely private garden with careful planning. Although its visual appeal is important, stone walls serve more than just a decorative purpose. They're essential, so we ensure they're stable and adequately support your landscape. To build and maintain retaining walls, you need the services of professionals like us, who have the necessary training and equipment. As an experienced hardscaping company, we can design and build beautiful stone paths and other elements for any outdoor area. Because of our meticulousness and commitment to excellence, you can be sure that your stone walls and walkways will serve their purpose well into the future and be a visual delight for many years to come. We use high-grade stone wall systems and paving components that will endure for years while boosting your property's value. Read More About Stone Walls & Walkways »


Tree Work
Working with trees requires a high level of skill, patience, and experience. And it's highly recommended that you have trained professionals like us to do this task. After years of experience with tree-related projects, we know what to anticipate and how to proceed. We provide a range of tree trimming treatments, such as contouring and crown lifting, based on the tree's age and condition. To guarantee problem-free work, we use cutting-edge equipment. We can handle projects of all shapes and sizes, including those with a commercial or residential focus. Our company is the best option if you want a tree removed. Our arborists have cut down many trees throughout the years, and they have done so using the most advanced tools and equipment. We work safely and efficiently, providing objective advice on the best approach to trimming, cutting, or removing trees from commercial and residential properties. Read More About Tree Work »


Excavation
Almost all landscaping projects need some excavation. These activities must be meticulously planned and carried out. We handle excavations during landscape and yard installations, renovations, septic tank and drainage installations, and replacements. We can assist you in finding the best solution to any situation, regardless of how simple or complex. Our crew has worked on landscaping and excavation projects of all types, so we know what works. We use state-of-the-art equipment and strategies to complete industrial and home jobs without compromising safety. We use a wide range of modern, advanced excavation equipment to complete these jobs skillfully and safely. Our experts ensure that the excavation is in line with the approved plans and complete it on time, so the project's next phase moves forth as planned. Our licensed and experienced team handles every excavation job to industry standards. Read More About Excavation »


Septic Systems
Septic systems are an integral part of any property and should always be in good functioning order. We are fully capable of diagnosing, repairing, or replacing your subsurface sewage disposal system if it is overflowing or no longer working as intended. We collaborate with regional engineers to use cutting-edge materials and methods while creating or repairing infrastructure. New systems are developed to last without negatively impacting the natural environment. We can also install septic systems on new properties as per plan, and our team completes the job as per code. We can install pump or gravity septic systems and the connected sewer and water lines as required. We use the most advanced equipment and complete the job systematically and safely. Our team works with other professionals that are part of the project to ensure the timely completion of the job. Read More About Septic Tanks »


Drainage Systems
Drainage systems are integral to any outdoor space, and we know how to design and build the best ones possible. We never lose sight of the fact that drainage systems are critical to the long-term success of any landscape. We have a comprehensive discussion with you to determine your needs and evaluate the existing situation. They put in a lot of effort to make the backyard drains perfectly and operate correctly. We can build landscape drains depending on the topography, grading, and layout. If you need a drain installed, whether channels, French drains, catch basins, area drains, etc., our team can help. Only high-quality, long-lasting draining components are used. Our company will do all in its power to accommodate your demands, no matter how simple or complex, and to do so without breaking the bank. We plan and install robust landscape drainage systems that perform well for many years. Read More About Drainage Systems »


Commercial Snow Removal
We provide dependable 24/7 snow plowing services for your residence, shopping center, office, condo complex, etc. Our qualified team works hard to keep your area free from snow and ice. We can also provide shoveling services if need be. We at T&M can also remove the snow with our payloader to create larger parking areas where large amounts of snow have fallen. We rely on state-of-the-art equipment such as large snow blowers, skid-loaders, pick-up trucks, and plowers to get the job done. Once you contact us, you'll see that we're fast to answer and get to work. Keeping our number on hand might be crucial in extreme cold and icy weather. Our skilled, licensed, and experienced snow removal team can handle all big and small snow removals on your commercial premises, regardless of how expansive it is. Read More About Commercial Snow Removal »


Landscape Supply
For all your landscaping needs, please feel free to stop by and browse our inventory. Everything from laying new paver sidewalks to resurfacing old ones to reworking patios is well within our scope. We have an extensive selection of garden tools and landscaping supplies to meet your needs. Stones, flagstones, sod, and drainage blocks are just some of our landscaping supplies. We have a large variety of lawn care supplies in our outside warehouse, and our helpful team is available to guide you in the right direction. Our fleet of trucks can transport anything from tons of foundation material to sacks or crates of sod, plants, or trees. Whether you are planning a compact residential landscape or an ample commercial outdoor space, we can help with the best landscape supplies. We provide excellent quality materials and products for your landscaping project. Read More About Landscape Supply »

We can create a wide range of landscape and masonry features to complement your home. We can help make your outdoor spaces more appealing and comfortable all year round. We do it all, whether it's hardscape or landscape planning, design, construction, or upkeep. Due to our experience and expertise in the field, we can develop unique solutions for issues like sloping land or poor landscape drainage. Using only premium methods and materials, we create one-of-a-kind, low-upkeep outdoor spaces. This method produces unprecedented worth for our clients when coupled with our dedication to quality. We are the company to call if you are looking for comprehensive landscaping services. For more information, please call TM Lawn and Landscape at 203-798-2415 and discuss your requirements with our knowledgeable team. If you aren't ready to start your project just yet, but need information about our services and supplies, you can email us through this Online Form, and we will call you back to provide you with all the information you need.